Brilliant Media was founded by Steve Nelson, an award-winning user experience designer and information usability expert. The company has a long track record of success with clients including Warner Bros., the Department of Defense, Deloitte & Touche, and Oracle.
Brilliant Media provides clients with innovative interactive design and consulting services. We also license our PowerView UX software to build customized information and knowledge access systems.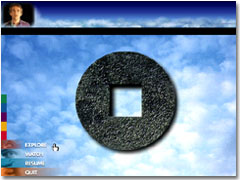 In its long history, Brilliant Media has established itself as an innovative creative force, producing such notable successes as Peter Gabriel's Xplora, the interface for the Intertainer broadband service, the groundbreaking Movie Marketing System for Warner Bros., and a wide array of web sites including the DARPA Grand Challenge 2005.
We have used our proprietary tools and methods to create interactive media applications for DARPA, The United States Air Force, Apple Computer, CNN, United Airlines, Peter Gabriel, Bandai and many others.